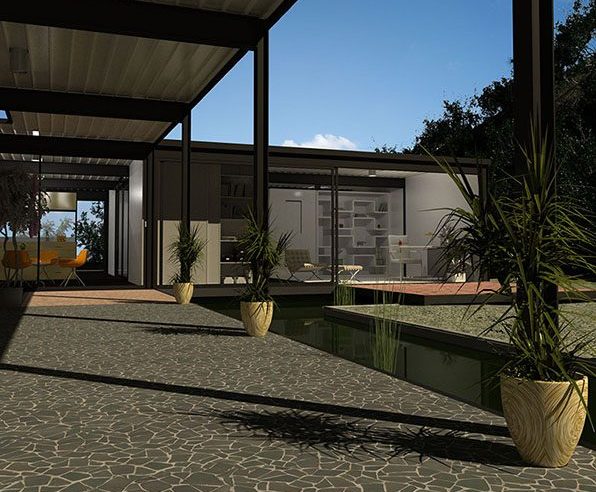 Tile is a very ancient building material, used on floors, ceilings and roofs for 5,000 years. Now there is something new in the world of tile. Mosaic Miro manufactures the most amazing contemporary natural stone mosaics in a wide variety of colors and patterns. Suitable for either residential or commercial applications, this tiling is guaranteed to add elegance and sophistication to any room.
The mosaic tiles are handmade in Java, where the company is very careful to minimize their impact on the environment. Pebbles and stones are collected, processed and glued onto mats. The edges of the mats are specially designed so that they interlock, resulting in a seamless floor. These mosaic tile floors can be installed by professionals or by a competent do-it-yourselfer.
Outdoor terraces present the perfect application for these tilings. Terrace tiling must be durable, above all else. The tiles will need to be able to withstand heavy foot traffic, furniture, spilled food and drinks, chlorinated pool water, rain, snow and hail. Fortunately, stones are nothing if not durable.
A wide variety of colors and patterns are available, from light to dark. Their Beachstone pattern shows variously colored small stones laid in a random pattern. A very formal terrace tiling could be easily accomplished by laying any of the geometric Mosaic patterns, available in numerous natural stone colors. The Figuras tiles are incredible. The intricately patterned tiles display leaves, waves, puzzles and even teapots. One of the Terrazzo patterns is a multi-colored random pattern which somewhat resembles an ancient Roman floor. The Palladiana line utilizes small randomly-shaped pieces of stone; some tiles are mono-color while others are multi-colored.
Beautiful easy-to-care-for terrace tiling will be widely admired by all who see it. It will enhance and complete the beauty and value of the home. These beautiful tiles are widely used in European homes and in many commercial applications. The company works with designers and architects to design custom applications. Tiles can be shipped anywhere in the world. Mosaic Miro's unique natural stone tiles enhance any area where they were installed. Terraces beautifully display the uniqueness and beauty of the natural stone tiles.