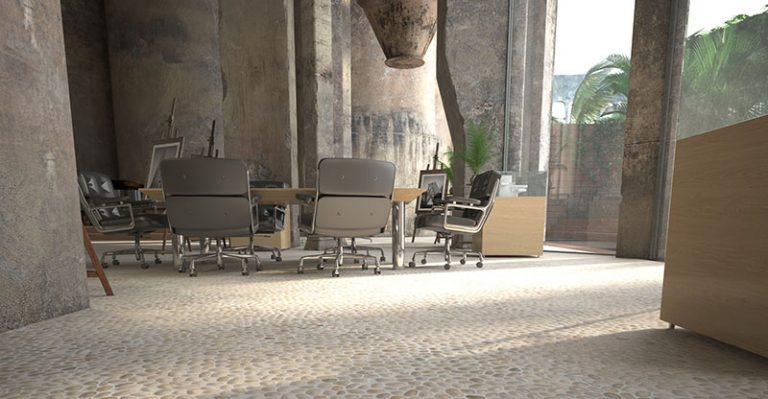 Stone Mosaics: Style, Ellegance and Affordabilty
We all want our homes to be as lavish and comfortable as possible without constraining our purse strings too far. When it comes to the best value of style and functionality versus cost, tile and pebble mosaics make a great addition for any number of rooms within your home. Tile and pebble mosaics can be form fitted to match any number of color schemes, styles and personal preferences allowing you to get creative with the endless possibilities.
Mosaic Miro specializes in the designing, fabrication and sale of beautiful stone and pebble mosaics and has created a system that makes the process of installing a stone mosaic easy enough for anyone to handle. By prefabricating sections, we allow for a large selection of pieces in different colors and patterns which allows you to pick and choose and fit together like seamless puzzle pieces that makes the perfect mosaic to fit your personality and creative style.
The stone and pebble mosaics produced are of the utmost quality and are structured out of the best possible materials including marble, onyx and other illustrious stones. Our pebbles are handpicked from various streams and rivers and radiate an authentic natural look.
The strength and versatility of stone and pebble mosaics means that you can adorn both the interior and exterior of your home with a personalized style unmatched to any other addition you can supplement your house with. Our mosaics will adhere to any surface including cement, drywall, plaster and wood meaning you don't have to be limited in which areas of your home you choose to garnish. They even make for great walkways and driveways.
Our elegant mosaics also make a great addition to any business including stores, hotels, office buildings and medical facilities. Dazzle your customers and visitors with a beautifully ornamented wall, counter, floor or whatever you choose.
Here at Mosaic Miro we are dedicated to providing the highest quality product and world class customer service. Our dedication to our customers is matched only by our devotion to providing sustainable solutions in manufacturing as well as creating a landscape of responsible business practices and adhering strongly to ethical behavior. Our perseverance means you can rest assured that all of our products are conflict free and at no point were harvested with the use of child labor.
Check out the rest of the site to view our range of products as well as learn about how were helping to maintain ethical and sustainable business practices within the industry.